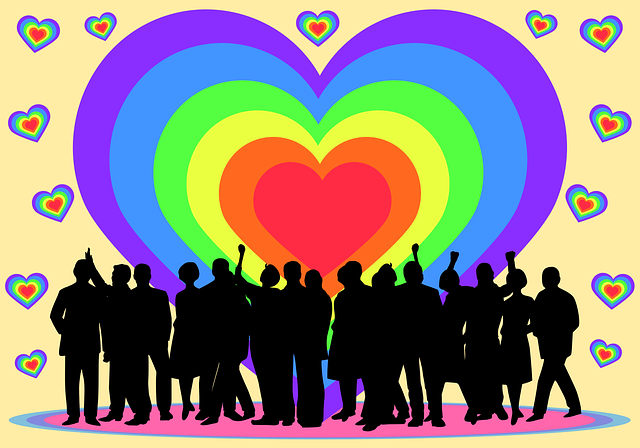 Image from Pixabay
LGBTQ Therapist Columbus, Ohio
While Columbus, Oh is a bigger city, we are still also considered part of the Midwest. This means it can be more difficult to find an LGBTQ+ friendly therapist in the area that it would be in a city such as New York, San Francisco or LA. It is especially difficult to find one with training and experience.
If you're reading this article, you are probably searching for a LGBTQ+ therapist based in Columbus, OH. You may be looking for help with mental health, relationships, trauma, family issues, gender identity, sexual concerns, getting help for abuse, coming out or many other issues.
Weather you identify as lesbian, gay, bisexual, asexual, queer, seeking, questioning, transgender, intersex, gender expansive, nonbinary, pansexual, or any other identity covered in the range of LGBTQIA+, you have unique needs that cookie-cutter therapy won't address. Your intersectionality, privilege or lack thereof, family of origin and many other things play into the type of therapy you need and you want someone who can understand your unique perspective.
What You Can Expect from an LGBTQ+ Friendly Therapist
No matter what anyone says, working with LBGTQ+ individuals, couples and families is different that working with heterosexual or cisgender clients. LGBTQ+ clients have unique challenges and are often oppressed and can be the victims of those in a position of privilege. This includes in therapy.
You want a therapist who is going to be able to understand life from your point of view and help you meet your therapy goals. Below are a few things that you should expect when working with an LGBTQ+ friendly counselor.
Understanding Your Challenges
If you are going for psychotherapy, counseling or mental health services you want someone who understands your challenges and your identity. You have challenges that are not only unique to your gender identity or sexual orientation, but also to your own personal circumstances such as race, socioeconomic status and family interactions. If a therapist or practice focuses only on mental health or their role as a counselor then they may miss these nuanced interactions.
Celebration, Not Just Respect, For Your Uniqueness
When going to therapy or getting mental health services you want someone who sees you as a unique individual and feels it is perfectly fine for you to be YOU! Everything that has happened in your world has come together to make you wonderfully unique and to build your identity. Your feelings, thoughts, dreams and desires are special and should be treated as such.
At Columbus Therapy and Hypnosis, we want you to live your best life as the wonderful unique person you are. We want you to meet your life goals, not ours. If you identify as lesbian, gay, bisexual, asexual, queer, seeking, questioning, transgender, intersex, gender expansive, nonbinary, pansexual, or any other identity covered in the range of LGBTQ+, please take a look at our services to see if we can help you.
Not Just an LGBTQIA+ Person Doing Therapy
At our practice we believe that doing LGBTQ+ therapy does not mean that someone has that identity and does counseling. It means that they have specific training, supervision or experience in working with LGBTQ+ clients, couples and families.
Counseling people with different lifestyles and sexual expressions takes specific training or supervision support as there are needs and challenges that LGBTQ+ clients, couples and families face that others do not. Counseling needs to address these challenges and needs.
We believe that just being LGBTQ+ is not enough to help you do counseling with the LGBTQ+ population. Any more than just living through depression makes you competent to do counseling with someone who is depressed. We want to give you the best support we can while you find your journey and explore healing, so we expect our therapists to have specific training and supervision support when doing counseling or therapy with an LGBTQ+ client.
If you are looking for counseling in Columbus, OH or throughout the state, we have people trained in counseling with LGBTQ+ clients who are ready to walk beside you in your journey and help you explore the world and your potential.
What to Expect Working With Us
Our practice is located in Columbus, Ohio but we practice state wide through telehealth. I would like to give you an idea of what it's like to work with our therapists as an LGBTQ+ person.
Throwing out the "Should"
As a therapist, and as a person, my least favorite word is "should". It puts other's expectations on us and is most often used to shame someone. It invalidates your identity and your feelings.
Here, we throw out the word should. No you should not have a certain type of relationship, identity, set of pronouns, timeline by which you come out, or means of expressing yourself.
Instead, we believe you need to be able to be yourself, create healthy relationships and live life on your own unique timeline. What works for one person may not work for another. We want you to be happy and successful, not to fit into the mold that family, society and culture want to stuff you into.
A Safe Space
When you work with us, your therapist will create a safe space where you can talk or ask about anything. Often, starting therapy can cause anxiety as you don't know if the counselor will be accepting. Here, your therapist will use a nonjudgmental approach and understand that you may be in great stress or pain.
Adults may have anxiety or stress in your career due to being LGBTQ+. An adult client or teen client may have problems with a social group, at their university or with sexual concerns that they feel they cannot talk to anyone about.
Clients can expect us to appreciate feedback and education on your thoughts and feelings during counseling. We will do everything we can to make our clients feel comfortable and safe with us during the process of therapy. No matter what you are facing, we will be there with you to provide support and help.
Help With Individual Issues
At Columbus Therapy and Hypnosis in Columbus, OH we can help you with individual issues. We can help with mental health issues you may be facing such as personality disorder, anxiety and depression. We can also provide counseling and support for issues such as trauma, life changes, gender identity and transgender concerns.
We service a diverse set of clients regardless of sexual preferences, relationship status, identity, gender, faith or age group and would love to hear how we can help you.
Help With Family Issues
Family therapy can be difficult to find in Columbus, OH. While there are many people who do therapy, trained Marriage and Family Therapists (MFT) are a rarity. It's even more difficult to find family therapists that are trained and have experience, supervision and consultation in working with LGBTQ+ families.
At Columbus Therapy and Hypnosis, our MFTs are trained specifically in relationship therapy. They all also receive specific clinical training, supervision and/or consultation in working with LGBTQ+ clients so that they know how to provide help, support and understanding.
Help With Romantic Relationships
As mentioned above, MFTs are hard to find, but those trained specifically in couple therapy and who work well with LGBTQ+ clients are rarer. Our therapists receive clinical training and supervision in types of therapy such as Gottman Method Couple Therapy and Emotionally Focused Couple Therapy.
This specific training helps us to identify the underlying issues in the relationship such as communication problems and physical or emotional abuse. It also helps us to understand each of you as individuals within the relationship and how your identity (weather it be lesbian, gay, bisexual, asexual, queer, seeking, questioning, transgender, intersex, gender expansive, nonbinary, pansexual, or any other identity covered in the wide range of LGBTQIA+) and specific needs affect your relationship.
Evening and Weekend Availability
One of the biggest issues that people can have with getting therapy services is the hours. It does not good to find a great therapist, and they're only available in the middle of your work day.
In order to respect your schedule, we offer services during evening and weekend hours. It is our hope that this allows more people to be able to get therapy and psychotherapy services when they need it.
Telehealth or In Person Availability
Another challenge to getting therapy is availability in a format you like. Some people love coming to therapy in person and will only get therapy in the office. Others enjoy having video sessions with their therapist the entire time, or after the first few sessions.
Either way, we offer both in-person and telehealth sessions to help you reach your goals and feel comfortable doing so. Telehealth also lets us offer therapy to people not only in the 614 but throughout the state. We enjoy doing this as we realize that MFTs are concentrated mostly in the cities and rural areas of the state may not have access to couple therapy or people who work with families.